Experience the Valentini Village What does a holiday here mean?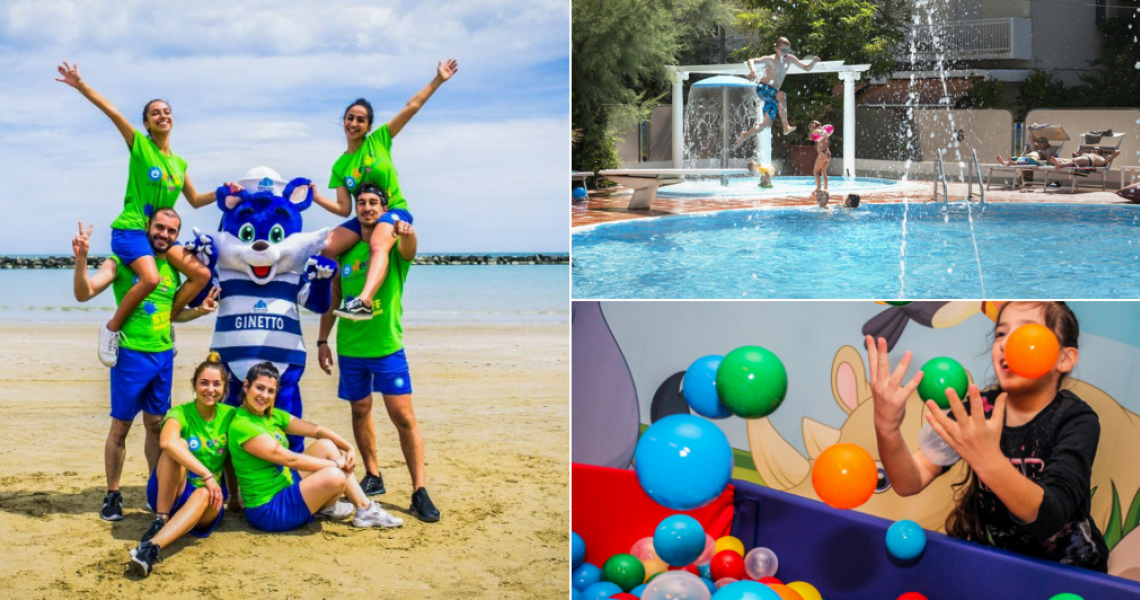 What does a holiday at the Valentini Village mean?
It doesn't just mean just staying at one of our hotels
(Hotel Gambrinus, Hotel Rosalba, Hotel Maré e Hotel Delle Nazioni).
Our holiday deals allow you to unplug from your daily life, be pampered and feel free to experience all the opportunities our beautiful locations offer you.
During the year, you zip between your workplace, home and school; at the Valentini Village, you bounce
from the beach and pools to the restaurants
(that's right: restaurants with an 's' on the end already, because we have more than one).
We mentioned how nice it is to be able to choose an all-inclusive
restaurant in one of our previous articles,
do you remember?
(Just in case you missed that article, you'll find the link below :) )
In today's article, we want to show your
what it's like to live at the Valentini Village.
In order to do so, we'd like to reveal the little pleasures that make holidays here special.
OK, let's start!
Or better, let's go (to the Valentini Village)!
Your experience begins from the moment you arrive at the Valentini Village.
Leave your car in our parking lot and forget about until the day you leave. Don't worry - it'll be safe here!

Arriving at the hotel and the children's welcome pack
When you enter the hotel, the reception desk staff will be there to welcome you.
If you've got kids, you'll be given a very important gift:
Ginetto's kit
(Ginetto is our mascot. You'll see him around quite often!).

Your first day at the beach
In the morning, the water is cool and clear and the tide is low, with means you can walk almost as far as the rocks.
There is no better time to enjoy
a long walk on
the shore, accompanied by the gentle sound of water.
If you enable the sound to this video, you'll be able to hear it!
This is the sound you get to wake up to every day.

The baby club for children aged 0 to 3
Even little kids can have fun with our professionally-trained educators.
After all, they are on holiday too, so we've organised activities, and games (which are, of course, suitable to their age).
In this article, you can find more information about our baby club:
👉 The baby club can transform your holiday

The mini club for older kids
Here's the club for slightly older children.
The entertainment team (and Ginetto) will keep the young guests busy with games, treasure hunts, facepaints and our unmissable and exciting sandcastle competitions!
New to the village: our inflatables!
That way, mum and dad can worry more about eating pizza and less about the kids having fun in a safe space.

Relax and have fun by the pool
Hotel Gambrinus, Hotel Rosalba and Hotel Maré all have a beautiful pool where you can spend time exactly how you want to.
Do you want to have fun?
Play games or dive in the pool with your kids. And don't worry: you'll never catch a cold, because the pool is heated!
Do you want to relax?
Relax on the sunbed by the pool and unwind, maybe even with a drink in hand.
You can do that here, remember?
You can leave the older kids with the miniclub entertainers, while the younger ones can have fun with our professional educators in the baby club.
Our pool area is safe for children and adults alike.
Fabio, the lifeguard at Hotel Gambrinus, will tell you this himself, in his friendly and reassuring Romagnolo accent!

Lunch... a wealth of opportunities
Restaurant, pizza, piadina, fresh salad?
Even at lunchtime,
you choose what and where to eat.
Here are our pizzamaker Carlo's expert hands!
Obiettivo aperitivo
Did someone say aperitivo?
Here's Marco, from Hotel Maré, serving up a spritz to our guests.
Spritz, piadina, and many snacks... there's nothing better!

Dinner: the luxury of choice... and some added bonuses
We already mentioned what the Valentini Village has to offer in terms of food in our previous article.
👉The pleasure of choosing a restaurant also in the All Inclusive formula.
Here are some pictures of the delicacies prepared by our chefs.
Of course, our Romagnolo night, with mixed grills and traditional food, couldn't go amiss.
Seeing as we like to spoil our guests, every now and again, we'll surprise you with some special dishes.
Here is the paella, the queen of our
Spanish-themed fiesta!
After dinner
Themed parties, casinos, candy nights, Brazilian dancing, soap bubbles, foam parties... at the Valentini Village, the fun never stops, even after dinner.

See you soon!
Yes, because once you experience the Valentini Village,
you'll want to come back every year.
Every year, we'll offer you something bigger and better: new dishes, new games, new evening entertainment.
You're in safe hands with us,
and you'll have the best holiday ever, especially in terms of value for money.
Keep following the Valentini VIllage blog, because very soon we'll be back to talk about family holidays at our hotel. 😉