What to do in Romagna during the summer A sea of opportunities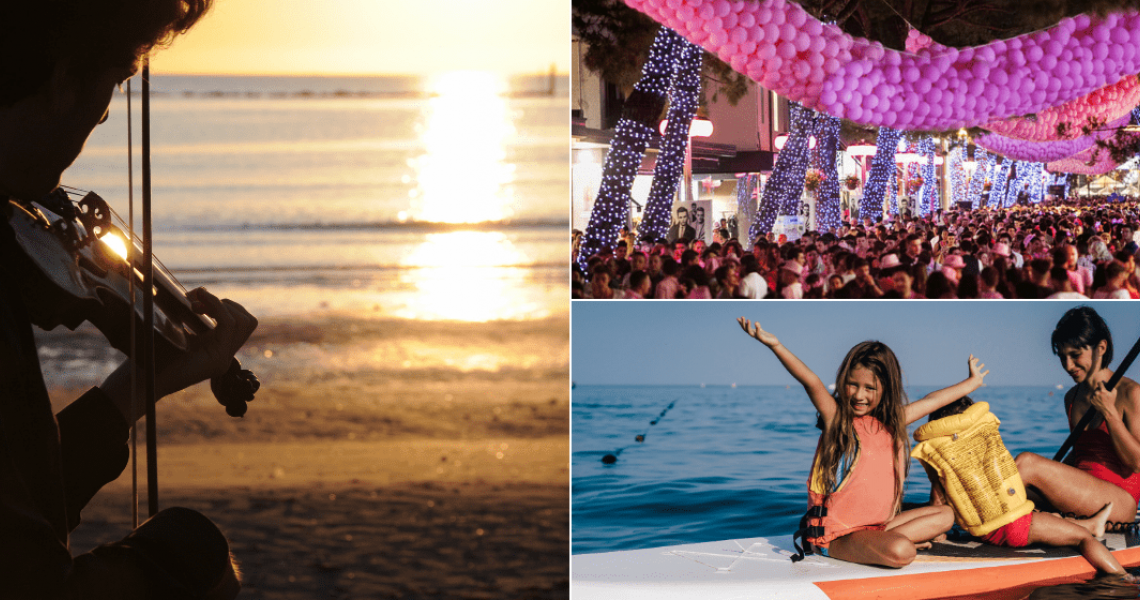 Who said that a vacation on the Romagna Riviera means lazing under a parasol all day?
There are many activities available to you for a different kind of afternoon or day.
Sports, parties, food events, entertainment... Romagna is the place where everyone gets to enjoy unforgettable experiences.
Are you travelling with family, friends or your friends...?
The best way to find out what your best options are is to speak to our staff at the reception desk - they'll give you lots of ideas!
Here is a taster of what Romagna has to offer.



Splash! Water sports
Our beaches offer many activities to active tourists and people who love "splashing around" in water.
Here are some examples of the water sports you can practise:
Sailing, windsurfing, paddle boarding, canoeing, jet-skiing...



Summer Evenings
Admire the sunset, take a relaxing stroll, breathe in the fresh sea air... all the things that you get to enjoy when you are on holiday.
Maybe Romagna's bustling nightlife is not your cup of tea and you'd rather listen to the sound of crickets than loud tunes... or maybe, you'd prefer to enjoy a glass of wine on the seashore while listening to the relaxing sound of the crashing waves.
In this case, these events might be up your alley:

Un Mare di Vino (A Sea of Wine) - Rimini, in July
The celebration of Wine and Romagna under the stars.
For further information:
Un Mare di Vino

Un Mare di Fuoco (A Sea of Fire) - Rimini, in August
3 km of bonfires under the stars.

Calice di Stelle (Goblets of Stars) - Santarcangelo, in August
"Two evenings dedicated to Romagna wine will fill your minds and hearts with the traditional hospitality of this land".

Grande Rustida dei Pescatori (The Fishermen's Great Grill) - August, in Cesenatico
There's no better way to celebrate our maritime tradition that to taste the delicacies of the Adriatic sea.

Ridi per Bacco (Laugh and Have a Wine!) - Coriano, in August
An entertaining aperitif and performance in the suggestive setting of the Coriano hills.



Glamorous Nights
If, on the other hand, you're in the mood for something more thrilling...
Corona Sunset Festival
If you are passionate about the beach, the sunset and DJ sets, then Rimini beach comes to life in August with the Corona Sunset Festival
A non-stop unforgettable music event from 3pm to midnight.

Notte Rosa (The Rosa Night)
Notte Rosa is the summer equivalent of New Year's Eve.
It takes place in July along the entire Romagna coastline and it brings concerts, DJ sets, events, performances… and tons of fun.

Even for younger participants...
Here in Bellaria Igea Marina, there's the Children's Notte Rosa, perfect for families who wish to celebrate this occasion with their little ones.



See you at dawn
Events don't only take place in the evening in Romagna. The early hours of the morning also offer a host of opportunities.
Many of these are connected to the Notte Rosa,
(see here for details)
but there are many more which take place all summer long in many different locations.
The most successful dawn concerts are the ones that take place on Cesenatico beach. Jazz, Soul and the sound of the waves.
You'll find the whole programme here.
👉 Concerts at dawn in Cesenatico.



Theme park
The Romagna Riviera is known as "the land of the theme parks".
Just a short drive away from Bellaria Igea Marina, you'll find many theme parks and entertainment facilities.
Have you decided to enjoy a fun-filled day here? Excellent!
At our hotel receptions, we'll be more than happy to give you information, suggestions and also help you get tickets.
Here are some of our favourite theme parks:

Mirabilandia
It is the kingdom of entertainment, perfect for both young children and teens. In the evening, many breath-taking performances take place here.

Cattolica Aquarium
It is the biggest aquarium along the Adriatic. Come here to experience close-up encounters with hundreds of different species.

Aquafan
It's Europe's most famous waterpark. Come and enjoy a refreshing afternoon with all the family.

Oltremare
Theme park located on the hills of Riccione.

Fiabilandia
Perfect for younger children.

Italia in Miniatura (Miniature Italy)
Theme park dedicated to Italy's historic, architectural and cultural heritage.
One thing's for sure: you won't be short of opportunities for fun…
To find out about many other activities, we suggest you also read our post:
👉
Things to do in spring in Romagna